October Pests Trick Or Treat?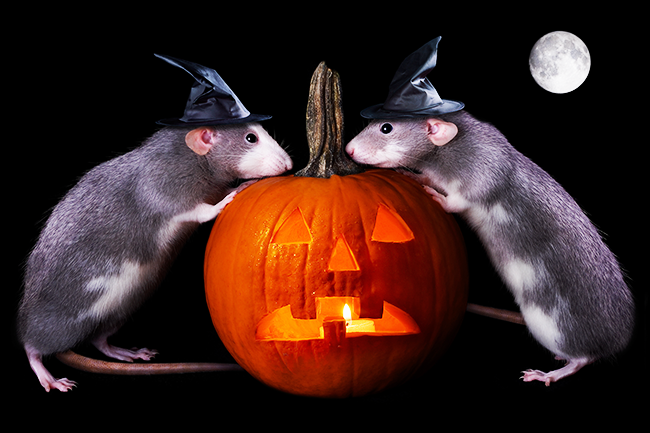 Halloween is at the end of the month and most people like a good fright unless it has a tail and jumps out of your toilet or cupboards to say boo! Unlike Halloween sadly pests are not only around for one day of the year and as the nights draw in and the days get shorter it is advisable to take a few precautions and keep your eyes peeled for these nasty critters!
Buzz Off ...
Last month Google reported a whopping 1000% increase in searches for "when do wasps die off?" wasps have been especially active this year with the longer warmer summer partly to blame for the surge in activity! As the summer ends, the colony will produce a number of new males who will die off with the winter chill and queens who will in turn go into hibernation for the winter. It is unlikely that they will be visible again till the following year and the return of the warmer weather when the whole nest building, picnic ruining cycle begins again.
We know that there have been a number of reported sightings of the Asian Hornets recently in the UK with ecologists warning of dire consequences for honeybees if the species is not swiftly eliminated. One hornet can kill 40 bees a minute and once egg laying begins their numbers can reach 6000. However at this time of year they are not expected to live much longer as the temperatures die off so will they!
Prevention Is Better Than Cure!
It is time to think about rat proofing your property as the opportunists will be seeking shelter from the elements as we head towards November. So remember prevention is better than cure, dispose of waste and rubbish carefully and securely. Check your property for any damage to walls and pipes as rats will gain entry through the smallest of gaps. Discard and remove any uneaten animal food as this will attract rats to your home.
Check Your Pets!
Whilst we are talking of pets let us move on to another pest! Fleas! Flea activity increases in the autumn as families switch the heating back on! Minor infestations are generally simple to deal with. However, heavier infestations often require a two-pronged approach, dealing with fleas both on your pet's body and in the home. So remember to treat all pets, wash bedding and hoover daily to remove any live fleas and their eggs.
Eight Legged Pests...
Spiders are rather fitting for Halloween and they will also be hanging around for a time this autumn as males house spiders go on the hunt for mates bringing them indoors! False widows too will head indoors as they have reached their optimum size and are too in search of a partner. Don't panic though out of 650 species of spider only 12 are venomous (designed to kill tiny creature) and very few have the ability to break the skin!
If you have a spooky encounter with any of these pests – who you going to call? Nope the Ghostbusters can't help but we at Sankeys sure can!
Call us on 0800 158 3885