Seagull Proofing The Royal Alexandra Childrens Hospital In Brighton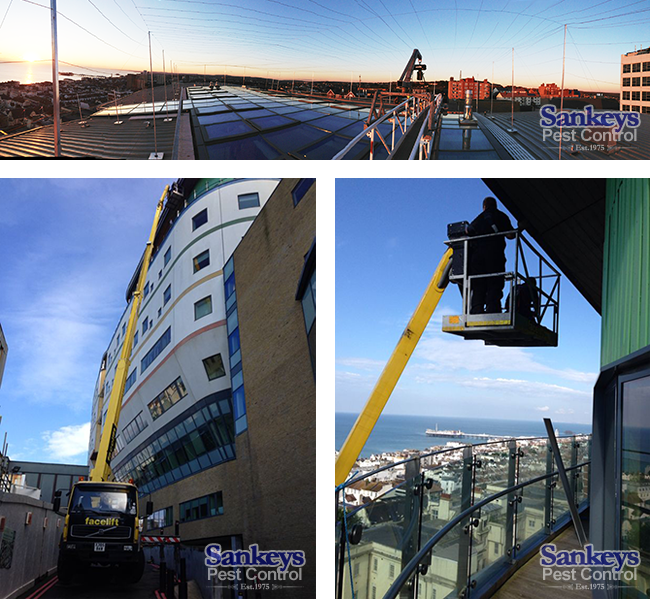 Taking Pest Control to New Heights
Sankeys Pest Control was enlisted to undertake seagull-proofing work at the newly constructed Royal Alexandra Children's Hospital in Brighton. The 10-storey building had an issue with the birds roosting and nesting on the glass atrium roof. This not only caused an unpleasant mess, but there were also health and safety implications.
The roof of the building is fitted with 21 emergency smoke vents. These are operated in the event of a fire or when the internal temperature of the building rises above a certain level. The nests prevented the vents from working correctly and caused debris to fall through into the building's atrium when they were opened.
The hospital issued Sankeys with a brief to prevent the birds nesting on the roof. This wasn't a simple job as there was an issue with the gantry bridge that runs on rails across the roof. This is used for maintenance. However, a jib on the gantry meant any measures to stop the birds building nests would have to be constructed four metres above the glass.
Sankeys designed bespoke aluminium posts that could be clamped to the roof seams. These were positioned across and to the sides of the atrium using plastic-coated stainless steel intermediate and bracing wires. This provided the necessary height to clear the gantry.
Philip Faulkner-Bryant, Surveyor at Sankeys said: "Our experienced team managed to complete this complicated project within two weeks. The job required them to work at height using harnesses and work positioning lanyards. Throughout this work they maintained our commitment to health and safety and removed the problems associated with the seagulls for the hospital."
About Sankeys Pest Control
Sankeys Pest Control was established in 1975 and is a leading independent pest control company. It has a network of over 20 local branches providing support for customers across the South East. They directly employ technicians, surveyors and support staff in order to provide customers with an excellent level of service.
Contact
For further information, please contact:- Sankeys Pest Control Ltd Unit 7, Riverside Industrial Estate Bellbrook Business Park Uckfield, East Sussex TN22 1QQ